Part 3:  George Clinton Files Bankruptcy
(This is Part Three of Three)
---
On July 16, 2015 – George told reporter, Justin Joffe,  that the "bankruptcy was fictitious".
"Mr.  Clinton allegedly filed for bankruptcy.  Allegedly because, in Mr. Clinton's words, the bankruptcy was fictitious—part of a "systematic fraud" to deprive Mr. Clinton millions of dollar owed to him from the highest selling single of his career".
This is untrue.  How do we know?  Because we were one of the people and/or companies (along with Leber Krebs and many others) who sued George.  In Bernie's case, it was for unpaid tour money due him as well as for unpaid session/coproduction work.  It was because we were among the list of creditors that we were sent *all* paperwork pertaining to the bankruptcy and this included the bankruptcy papers signed by George Clinton.
"Day One" – Malbiz Music (George's publishing arm) has "many, many Songwriter agreements" (more about this later).  George is sued by multiple entities.  During bankruptcy, George states he has no assets.
"Day Two"  — Bridgeport Music (Armen Boladian's publishing arm) allegedly now has "many, many Songwriter Agreements".  Now, George/Malbiz has no Songwriter Agreements. What George does have is a ranch in Michigan.  This deal, regarding publishing, was initiated by George in a (successful) attempt to defraud his creditors.  Did Bernie ever sign ANY songwriting agreements.  We think he might have before I looked up from whatever I was reading and put a stop to it.  However, when asked to send us copies of the Songwriter Agreements George said he had – only a few were sent and a couple of them are clear forgeries (see below)
George has filed lawsuit after lawsuit to get "his" publishing back.  As the forgeries started in HIS camp (see name of publishing company on the forged Songwriter Agreement below), he is responsible for every single writer losing their publishing…..something many didn't even find out about until the sampling started.  It was George who set that whole nasty business in motion.  He named his publishing company truthfully: "mal" in French means "bad".  In effect, Malbiz = bad business!!!  Prophetic much?
---
"Judge Drops Da Bomb on George Clinton"
By ABC NEWS [link]
T A L L A H A S S E E, Fla., Jan. 30
A judge ruled that American funk music star George Clinton can not keep rights to music he wrote in the late 1970s and early 1980s — work worth more than $100 million in profits, the singer's Web site said.
U.S. District Judge Robert Hinkle said Monday that the music written between 1976 and 1983 belonged to Bridgeport Music, a Michigan-based music publishing company that Clinton signed the rights away to in a 1983 contract.
Hinkle also barred Clinton from profiting from the songs, saying the singer did not disclose them in a 1984 bankruptcy filing as possible future income.
Funkster Was Hoping for Millions
Clinton, 60, argued that he never signed a valid contract. The lawsuit, filed in 1999, also claimed that he lost money from rap music artists using samples of his old songs but not paying fees.  Clinton declined comment as he left the courthouse, the Tallahassee Democrat reported in today's editions.  "We literally were expecting millions of dollars out of this," said Don Wilson, Clinton's attorney. "This just means we regroup and decide how to exploit the songs we do have rights to."
Clinton signed the deal so the company could retrieve more than a million dollars advanced to him during his financial troubles in the 1980s, Bridgeport Music president Armen Boladian testified.
Handwriting Expert Testifies
A handwriting expert testified that it was likely the signature was indeed Clinton's, refuting Wilson's claim that his client did not sign. Wilson added that the agreement was worthless because Clinton's wife, Stephanie, co-owned the music rights and would have had to also sign the contract.  Clinton, a Tallahassee-area resident, was the founder of the popular funk group Parliament, which later changed its name to Funkadelic. His hits include "One Nation Under a Groove," "Flashlight" and "Atomic Dog."
---
A few facts:
Below is a copy of the bottom of a Songwriter Agreement that Bernie is alleged to have signed.  Who, among you, thinks that college educated (Majoring in Classical Piano at the New England Conservatory of Music) Dr. G. Bernard Worrell, Jr. didn't know how to spell his own last name?
Who, among you, can see the publishing company (Malbiz Music) on the bottom of this and STILL think George was not behind this?
How did George think he could get away with claiming that one of his females (Stephanie, in this case) "owned" music rights?  NOT any of Bernie's!!!!
I have told you all along that the forgery(ies?) started in George's camp and THIS is your proof.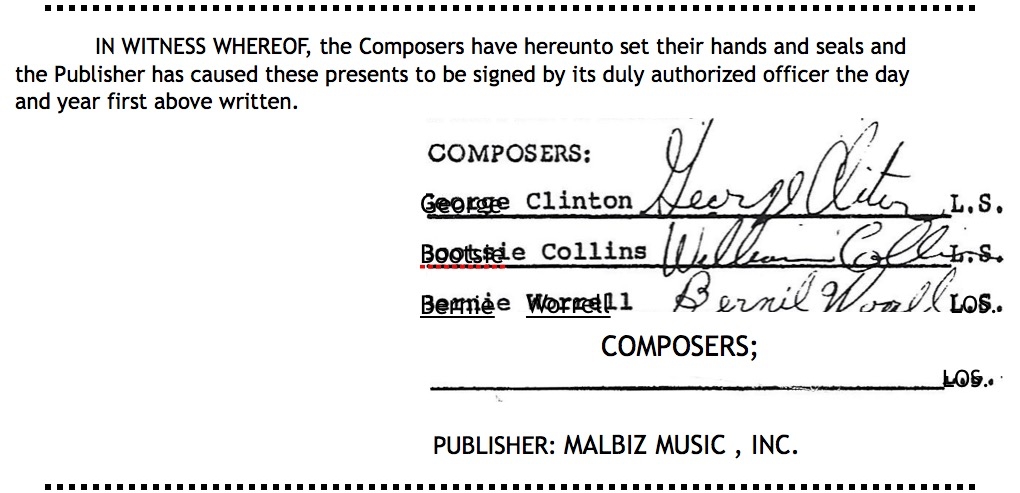 It's hard to see above but the forged last name is spelled "Woall".    THIS is how the publishing of the other writers, including our Mr. Worrell, was first usurped.  No, I was not there.  Neither was Judge Hinkle!!  But he managed to figure out what happened as did Bernie and I.  Now, you'd think all those people who sampled (and continue to sample) Bernie (cause would SOMEONE please tell me what instrument George played???) would have paid him, right?  Well, if they ever paid anyone, it never trickled down to Bernie.
Do any of you remember when George put out "Sample Sum A Dis, Sample Sum a DAT"?  Well, not a ONE of the musicians actually being sampled EVER GOT ONE RED CENT!!!  George kept all profits yet he laments above that "also claimed that he lost money from rap music artists using samples of his old songs but not paying fees."   
And all of this, ladies and gentlemen, added to the loss of his Artist Royalties, is why Bernie needed to have Benefits done.  Not because Bernie didn't earn the money, but because it was stolen, misappropriated, misdirected, whatever verbiage floats your boat.
Now, I promised Bernie that once I posted the third installment of what really happened, that I would "slow down and let it go".  Bernie didn't speak on this during interviews because it was one of his triggers and he wanted to stay positive.  He said "if I go there, hon, it affects my music".  So, *I* handled it so Bernie could stay on his AA program because it was more important to keep Bernie contented and happy than to tell the truth UNTIL Bernie finally had enough.
Why isn't Bernie part of the Bobby Brown documentary?  (Cause we learned from our mistake (my fault) with Phil di Fiore (for which Bernie received one payment of $1,000 and NO statements ever, etc.) we required a "letter agreement stipulating that if/when you release the documentary commercially, Bernie would share".  Bobby never sent the Letter Agreement; Bernie never participated.
To those of you who don't want to believe any of the truths Bernie and I have shared with you:
The truth is the truth.  Nobody has to believe it — there are some who still believe the sun revolves around the earth.
Bernie and I sat in front of a camera while we discussed this because Bernie knew that "some" would "come after you when I'm gone, hon".
Some of you say you want to "keep the funk alive".  By "burying your heads in the sand", and not wanting to know the truth, what you are actually keeping alive is the nightmare that George turned everyone's dream into.
For years, George has toured on the backs of the work of ORIGINAL P-Funk (the ones who actually wrote the songs in the first place) and not a one of them have enjoyed the "fruits of their labors" including the songwriters who came later.  But theirs is not our story to tell.  P-Funk is a musical phenomenon and will go down in history as such.
HOWEVER, IF history reflects the real truth, George Clinton will be rightfully condemned for grand theft, fraud and "black on black crime".  For those who say "she is tarnishing the P-Funk legacy", I will tell you what I told George:  "is the saying of it worse than the doing of it?  If YOU stop doing it, George, I will stop talking about it".  He did NOT stop doing it and I will continue telling the truth.  The person who tarnished the P-Funk legacy is George!!!
I can only speak for Bernie (with his permission) cause THAT is what I KNOW, for sure.  I will now keep my promise to Bernie (as I always have) and "let it go, hon.  After this, please just let it go"
So, in memory of the love of my life:  ok, Bernie.  The truth is now told.  I am done, moving on, letting it go. (unless I need to testify at George's trial ☺)